Click here to download free Plainridge Park racing programs
Massachusetts-bred Sire Stake eligible winners – w/e 5-15-2022
As the racing season approaches summer, more and more Massachusetts Sire Stakes eligibles are qualifying or already racing. This past week eight 3-year-olds registered wins at various tracks and the results can be found by clicking here.
Massachusetts champion Bill Bauer has home field advantage in
Battle of Bunker Hill trot
(Bill Bauer shown here winning the $100,000 final of the Massachusetts Sire Stake in 2021. Photo courtesy of Tom Melanson)
The inaugural edition of the $100,000 Battle of Bunker Hill trot for 3-year-old trotters will be held at Plainridge Park on Monday (May 16) when the Grand Circuit returns to Massachusetts for the second of three 2022 engagements. One of the starters in this first time stake is Massachusetts-bred Bill Bauer (EL Titan-Miss Flaggy Meadow) who will be making his seasonal debut. However his last start last year was a win in the $100,000 Massachusetts Sire Stake final at Plainridge that made him the 2-year-old male trotting champion.
Bill Bauer is owned by another Massachusetts native, his trainer Paul Kelley, along with Joseph Palillo III and Ellen Palillo. Kelley is no stranger to top trotting stock. He guided the career of Obrigado to multiple stake wins and over $1.9 million in earnings. Kelley liked what he saw from Bill Bauer last year and says he looks for more improvement moving forward.
"Earlier last year in the Excelsiors in New York I was lucky because I had Wally Hennessy driving him and he gave the horse the chance to gain experience and confidence. Plus I knew that his best chance of making money last year was going to be at Plainridge based on the purses they race for versus the Excelsior." said Kelley. "So we just tried to educate him through the summer and get to Plainridge and hopefully he would have his game together by then. There were a few bumps along the way but when we got to the final, things worked out for us for sure."
Having those foundation miles under his belt, Kelley felt it was time to let Bill Bauer out a notch when he got to Massachusetts and they left with him in three consecutive stake starts.
"The first leg he cut the mile and just got caught at the wire and finished second by a neck. The second start he had the lead but ended up taking a trip. He pulled in the stretch, threw his head and made a break. In the final he had post six but with the persistent rain and sloppy track, that was the place to be. He cut the mile again, Drew (Monti, his driver) kept him in the two path where the footing was good and he won by eight lengths and took a mark of 1:57.4," said Kelley.
The MASS final was Bill Bauer's last start of the year and also his last as a colt. Kelley gelded him a week later and now looks forward to more improvement from the horse.
"I just knew he'd be a better horse as a gelding. I like turning horses out a lot and in groups and if he were to stay a colt that was a problem. He had a great off-season. He grew, he filled out real well and he trained down very well."
Bill Bauer has two qualifiers at Harrah's Philadelphia to this point this year and Kelley was impressed with both outings and feels he's ready to race well in his first start of the year in this stake.
"I know there are some decent colts coming up there for the Bunker Hill and I was a little on the fence on whether or not to enter. But I figured he's been up to Plainridge, he knows the track and got over it very well last year so I thought I'd take the shot. It's early May and there are sires stakes going on in New Jersey and Pennsylvania so horses have other commitments too, so you don't know where people will throw in. We're looking forward to it," Kelley concluded.
After this start, Bill Bauer will again compete in the New York Sire Stakes over the summer and make his return to Plainridge Park this fall to defend his title in the Massachusetts Sire Stakes starting in September.
There will be five horses going postward in the $100,000 Battle of Bunker Hill Trot which is carded as race five. Post time for the first race is 4 p.m.
Mullinax becomes the fastest pacer ever bred in Massachusetts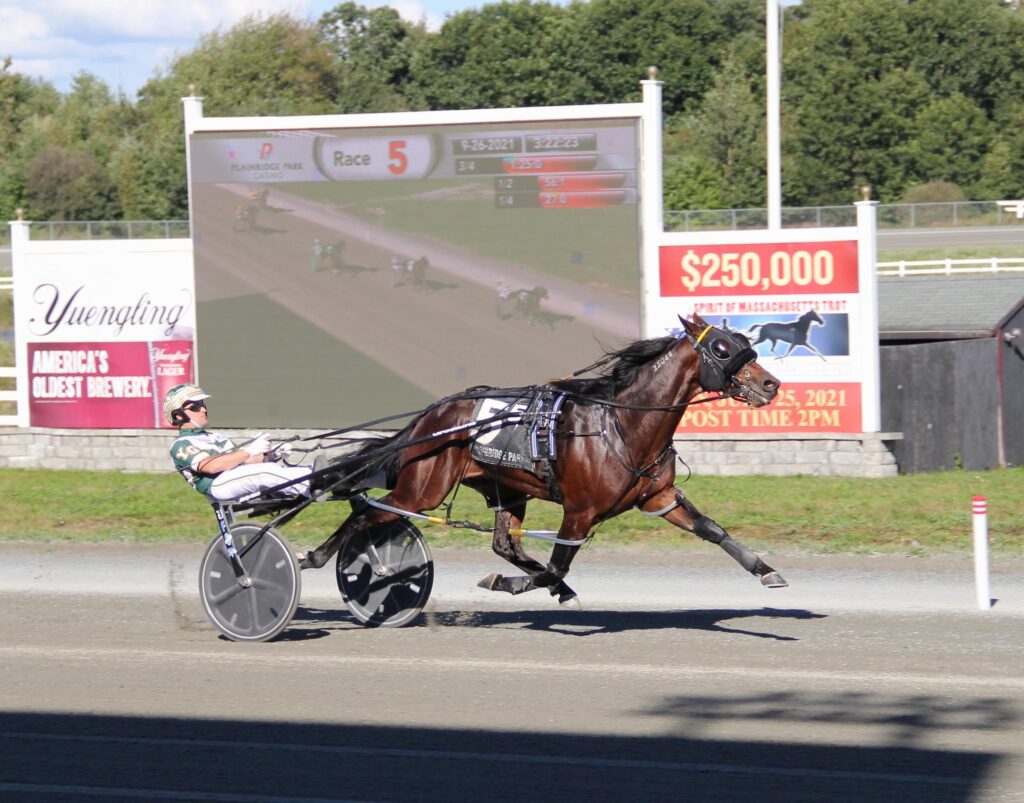 (Mullinax shown here winning a leg of the Massachusetts Sire Stake in 2021. Photo courtesy of Tom Melanson)
On the strength of his lifetime best winning effort of 1:49.1 at The Meadowlands on Saturday night (April 9), Mullinax (American Ideal-Up Front Kellie Jo) became the fastest Standardbred of any age, gait or gender bred in Massachusetts.
Tim Tetrick was locked in fifth at the rail with Mullinax at the top of the lane before finding open road along the pylons and bolting home in :26.2 to win by one length to establish the new record.
Mullinax was foaled at the Longobardi Farm in Norfolk, Mass., in 2018 and became a Massachusetts Sire Stake champion at two while setting a track and stakes record for a 2-year-old pacing colt (1:53.4). He then repeated as champion at three, sweeping all three legs and the final while setting another stakes record for a 3-year-old pacing colt (1:51.3).
Now four, Mullinax has 34 lifetime starts with 12 wins, seven seconds and five thirds with earnings of $356,724. Bred by his namesake, the late Ed Mullinax and his trainer Mark Ford, the fastest horse ever to come out of the state of Massachusetts is owned by William Varney of Bangor, Maine.